December 7, 2002 Saturday
(Sanborn - unnamed trails)
---
| Archives | Home | Post or Read Comments |
Sanborn county park
Outside the Sanborn county park entrance, on Sanborn road, are several parking areas that lead to unnamed trails. The trails are not well marked and after a few hours, it's still unclear where they lead to. Although the hike was without great elevation changes and was perhaps just 1.5 miles in total length, the other two hikers (Paisley & Mei) can attest to a generous workout climbing up and down leaf-strewn, loose ground over hillsides. The surprise I mentioned is a collection of rock piles that people before us had built in the creek beds. Clearly human-made, they nevertheless seemed to blend into the scenery naturally. We contributed a creation of our own before we left - it is shown in the last few pictures. Enjoy!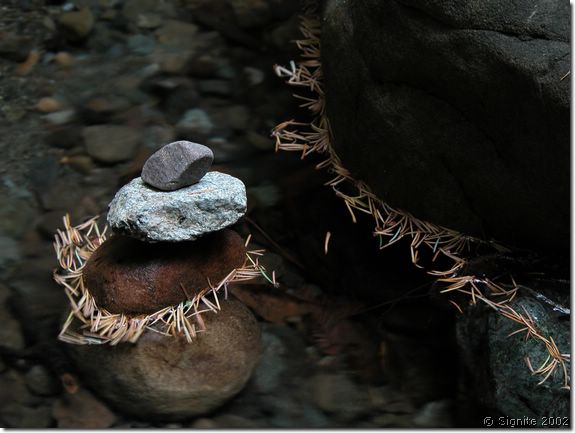 [A9191] Fallen pine needles congregate on the surface of the creek around a small rock pile.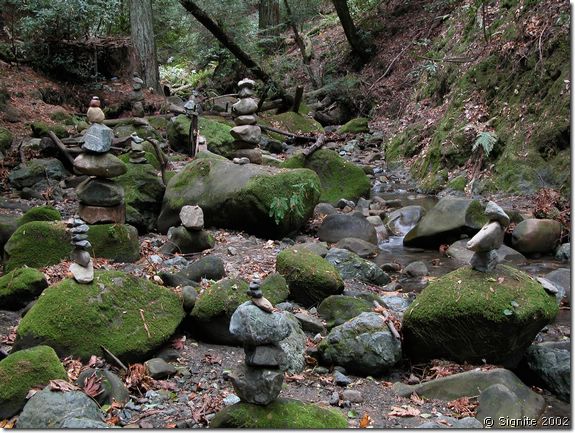 [A9207] The creek bed is eerily populated with rock piles.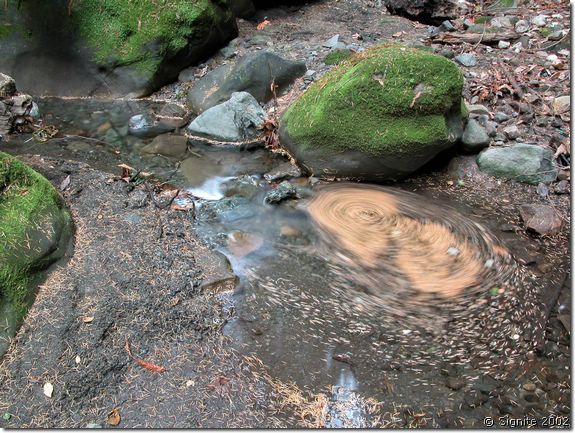 [A9215] Pine needles swirl round and round on the water's surface, dizzy yet?
[A9216] Someone has erected shelter with odd-length branches. Or was it an elf's home?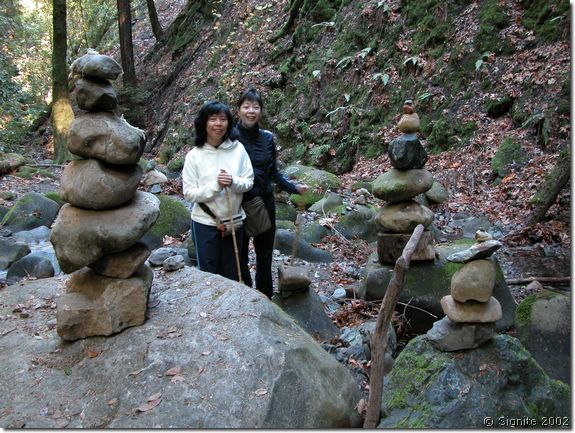 [A9225] Mei & Paisley examine the rock piles.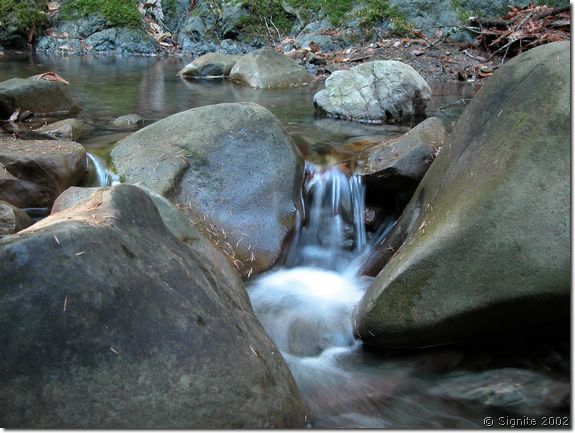 [A9229] A little waterfall, or if you'd like to imagine it's big, that's cool, too.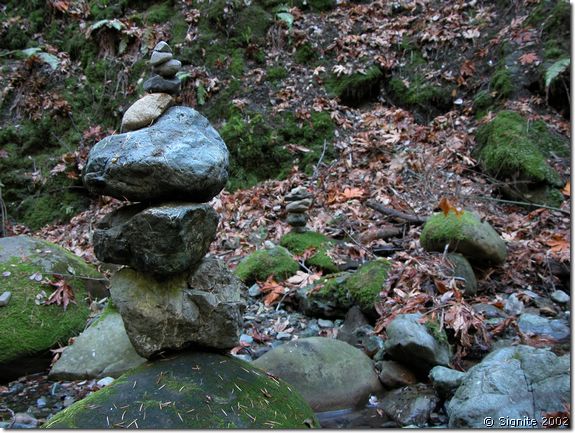 [A9232] What are you thinking when you look at this?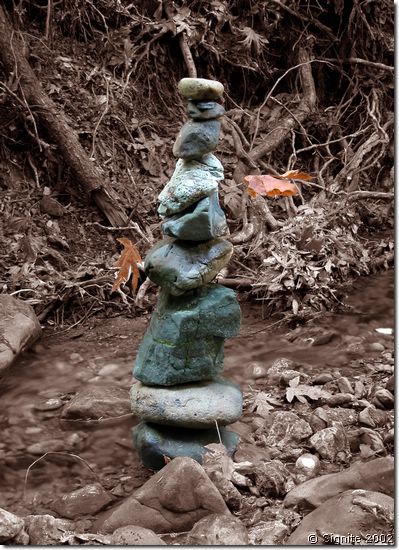 [A9236B] We created this little rock-man in a few minutes -
notice the maple leaves for arms & hands!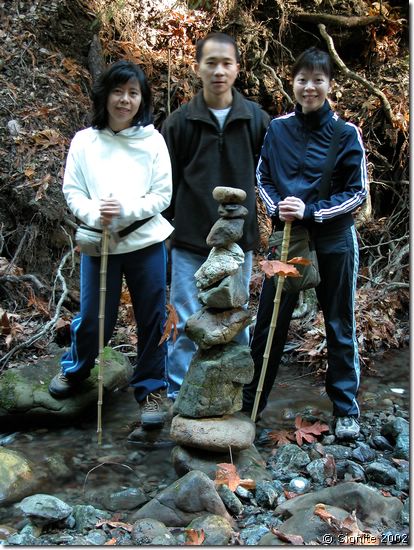 [A9239] Left to right: Mei, Paul, and Paisley. Front: Rocky Little.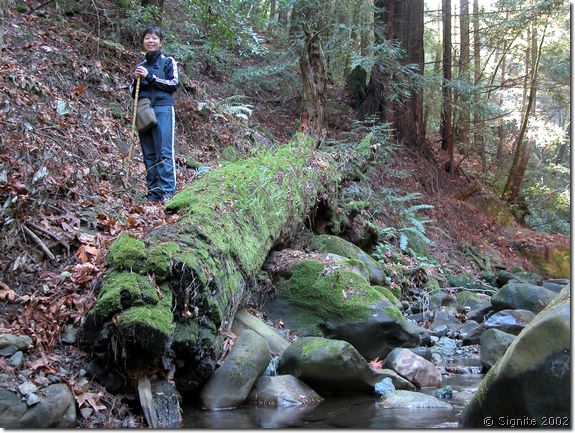 [A9242] Paisley coming down one of the make-shift trails.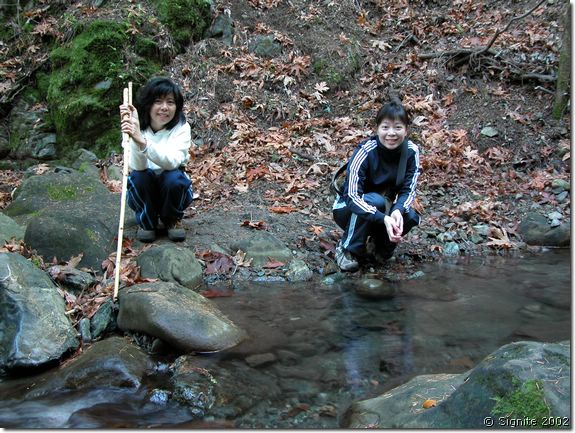 [A9243] Taking a break at water's edge.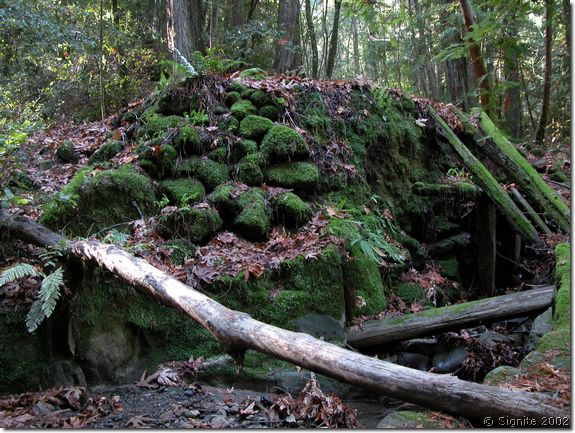 [A9249] Recent rains and moisture has induced lush green lichen all over the rocks and logs.
[A9254] Sun rays penetrated through the trees, onto dwellers on the forest floor.
[A9259] An actual trail at last! It was very soft given all the leaves and small branches.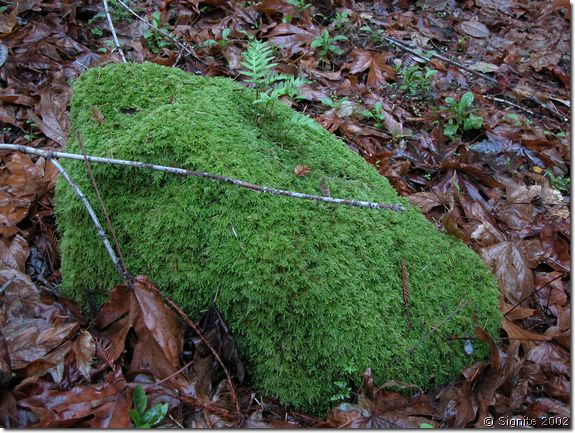 [A9265] A rock or tree stump is covered with carpet-like lichen and a small cluster of fern.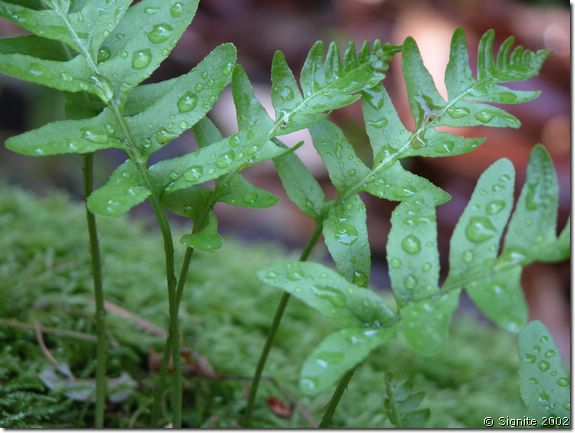 [A9267] Beads of rain or dew cling onto the fern, giving nourishment and beauty.
[A9272] Mei stands next to our 2nd creation.
[A9274] This six-footer took more than half hour to build.
[A9276] Paisley and Rocky II.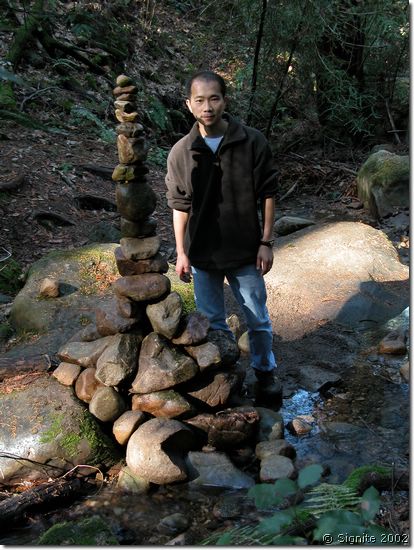 [A9288] Yeah, that would be me.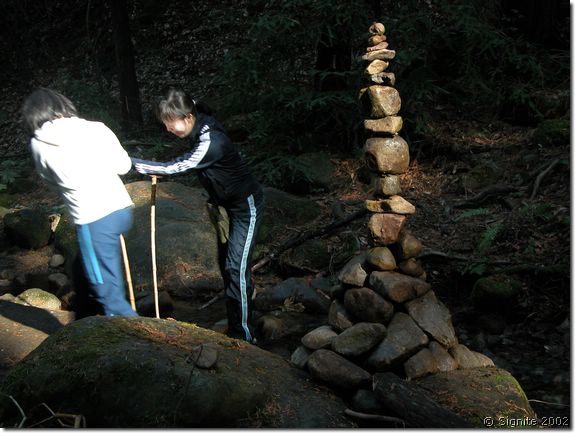 [A9290] As we prepared to leave, the sun rays filtered through the branches and lit the rock pile so that it became visible from afar (imagine some organ sounds to go along with this!).
| Archives | Home | Post or Read Comments |
---

© Silicon Valley Hikers 2001 - 2002